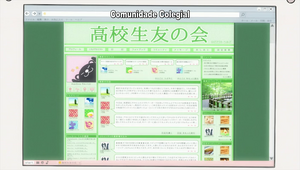 Is a Community on Internet that Asako Natsume makes part. All members are unknown. They sometimes have an off line reunion.
During the off line reunion Haru implicates with everybody, and everybody hated Asako. After that she goes out of the Community.
Ad blocker interference detected!
Wikia is a free-to-use site that makes money from advertising. We have a modified experience for viewers using ad blockers

Wikia is not accessible if you've made further modifications. Remove the custom ad blocker rule(s) and the page will load as expected.