Ad blocker interference detected!
Wikia is a free-to-use site that makes money from advertising. We have a modified experience for viewers using ad blockers

Wikia is not accessible if you've made further modifications. Remove the custom ad blocker rule(s) and the page will load as expected.
WARNING! Please be aware that this wiki contains heavy SPOILERS.
Welcome to the Tonari Kaibutsu-kun Wiki!
The ultimate resource for the Tonari no Kaibutsu-kun Manga and Anime!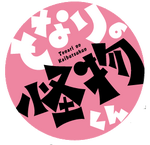 Tonari no Kaibutsu-kun (となりの怪物くん, lit. The Monster Seated Next to Me) is a Japanese manga written and illustrated by Robico and published by Kondasha. It is about the relationship between a girl named Shizuku and a boy named Haru. An anime adaptation of the story by Brain's Base began airing on October 2, 2012. It is also being simulcast on Crunchyroll under the name of My Little Monster.


Please help us by editing or by creating pages!
Our database currently contains 171 articles and 700 images.


Overview · Searching · Editing · Help . Templates · Categories . Admins

Characters