Sōhei Sasahara
Talk

0
165pages on
this wiki
Sasahara Sōhei (佐々原 宗平?, lit. Sōhei Sasahara) is one of the protagonists of the story. He currently is a second year student at Syoyo High School and an active member of the baseball team.
Appearance
Edit

He has dark brown spiky hair which he has grown out since middle school[1] and dark green eyes. He commonly wears the Syoyo High School uniform with the blazer unbuttoned and is relatively small in stature, as noted by Iyo[2], wears a pair of sneakers. He typically has a cheerful and happy expression and is also shown wearing a baseball cap, even outside training.
Personality
Edit
Sasahara is a cheerful and outgoing person, encouraging others to refer to him as "Sasayan" (ササヤン?, Sasayan). He is noted to be gentle and kind to everyone[3] and is quite popular in his school. Despite this, he mostly hangs out with Haru, Natsume and Shizuku, leaving Natsume to believe that he actually looks down on her and Haru[4]. Sasahara himself remarks that, unlike what others like Natsume think, he is not someone who sees everything clearly[5]. He is especially concerned about Haru, having attended the same middle school as him, and wants to avoid the same scenario where Haru stopped coming to school completely.
More than often Sasahara has been shown to place the happiness of others above his own, shown when he encouraged Natsume to pursue Mitsuyoshi even after she had gotten rejected and helping Shimoyanagi in his efforts to persuade Natsume, despite being romantically infatuated with her himself. After admitting his own feelings and getting rejected, Sasahara didn't seem to mind it that much, saying that for the time being he would rather be playing in a club and hanging out with friends anyway[6].
Sasahara went to the same middle school as Haru did, where he was also part of the baseball team[1]. During this time he also had a girlfriend named Yamase[7]whom he asked out after hearing a rumor that she liked him, although their relationship didn't last very long[8]. He also said that in middle school, he hated, Shinjou, a guy who Haru saved.
Relationships
Edit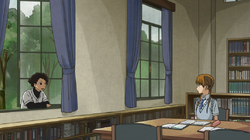 Being put in the same class during their first year, Sasahara approached Shizuku while she was studying in the library, saying he was interested in her because she was able to get Haru to attend school.[9] She then asked him if he wanted to take care of Nagoya, which he accepted. However, he soon had to return the rooster because his cat was afraid of him.[10] In general, they are on very friendly terms, often hanging out together with the group.
Sasahara and Haru shared the same middle school, although Sasahara was the only one to remember it. Yoshida and Sasahara seem to be very good friends. Sasahara also helps Haru to get together with Shizuku. It was seen many times. He also talks to Haru about how to treat ladies right, and he's always giving him advice about romance. When Shizuku inquired Sasahara about why he he was so worried about Haru, seeing how they had only recently began talking with each other, Sasahara stated that he owed Haru a favor.[11]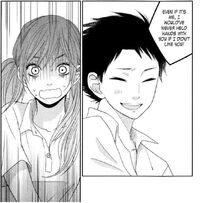 From the start, Sasahara and Natsume shared a great friendship, Natsume even considering Sasahara one of the few boys she could act normal around[12]. Sasahara also actively helped her in her pursuit of Mitsuyoshi, going as far as apologizing to her when he learned of her being rejected, saying he did not support her enough.[13] Later, when Natsume manages to deliver the souvenir she bought to Mitsuyoshi, he is seen waiting for her at the exit, expressing his concern for her.[14] Although Natsume exclaims that she is alright, she soon bursts into tears causing Sasahara to grab her hand and saying it will be alright, since he, Haru and Shizuku are there for her.[15]
Following this incident, Natsume becomes convinced that Sasahara is in love with her, even expressing these worries to Shizuku.[16] She ignores his messages during summer break and tells him that "the answers is no" when school resumes, despite Sasahara not having even said anything to her.[17] Sasahara takes offense to this claim, deeming that the thought of holding hands made him fall in love with her is ridiculous, and says that he has been questioning if Natsume isn't too full of herself since long ago.[18] Their relationship becomes strained, Sasahara being convinced that Natsume thinks of him only as another enemy, a "male" while Natsume thinks he sees her as a "useless person who can't do anything well".[19]
Later, Natsume recognizes her mistakes and thanks Sasahara for comforting her. She also admits that she was actually quite happy because there had never been a boy before who got mad or didn't go easy on her like Sasahara had done.[20] They decide to forgive each other and become friends again, while Natsume excuses herself for the "stupid misunderstanding". This leads Sasahara to cheerfully exclaim that there was no misunderstanding, seeing how he actually does like her.[21] Natsume views this as betrayal and rejects him again, but Sasahara says that he's fine with being friends for now. After this, Natsume begins to act awkwardly around Sasahara, although he encourages her to do as she always does.[22]
When Sasahara's middle school baseball team came to visit him during the Syoyo School Festival, they asked him if he had met "that person" yet, referring to this Shinjō. Who he or she is remains unknown, but Sasahara was visibly shocked when his/her name was dropped[23] and secluded himself with visible worry for the rest of the day.[24]
He is 164 centimeters tall and his blood type is A.
He was the one who gave Haru's chicken the name Nagoya.
He still does not have Natsume's "Secret Number"
When Shizuku asked him why he was caught up with Haru he stated that he "owed" him.
He has liked Natsume for a very long time now.
References
Edit
↑ Tonari no Kaibutsu-kun manga; Chapter 30, page 38
↑ Tonari no Kaibutsu-kun manga; Chapter 35, page 13
↑ Tonari no Kaibutsu-kun manga; Chapter 35, page 12
↑ Tonari no Kaibutsu-kun manga; Chapter 35, page 33
↑ Tonari no Kaibutsu-kun manga; Chapter 38, page 18
↑ Tonari no Kaibutsu-kun manga; Chapter 13, page 16
↑ Tonari no Kaibutsu-kun anime; Episode 9
↑ Tonari no Kaibutsu-kun manga; Chapter 3, pages 23
↑ Tonari no Kaibutsu-kun manga; Chapter 4, pages 6-7
↑ Tonari no Kaibutsu-kun manga; Chapter 5, page 29
↑ Tonari no Kaibutsu-kun manga; Chapter 16, page 3
↑ Tonari no Kaibutsu-kun manga; Chapter 34, page 35
↑ Tonari no Kaibutsu-kun manga; Chapter 34, page 39
↑ Tonari no Kaibutsu-kun manga; Chapter 34, page 40
↑ Tonari no Kaibutsu-kun manga; Chapter 35, page 9
↑ Tonari no Kaibutsu-kun manga; Chapter 38, page 10
↑ Tonari no Kaibutsu-kun manga; Chapter 38, pages 11-12
↑ Tonari no Kaibutsu-kun manga; Chapter 35, page 22
↑ Tonari no Kaibutsu-kun manga; Chapter 35, page 34
↑ Tonari no Kaibutsu-kun manga; Chapter 35, page 36
↑ Tonari no Kaibutsu-kun manga; Chapter 35, page 40
↑ Tonari no Kaibutsu-kun manga; Chapter 38, page 21
↑ Tonari no Kaibutsu-kun manga; Chapter 38, page 34